Category Archives: How to keep your dog happy and healthy
Learn tips and tricks from the professionals at Camino Verde Pet Resort on how to keep your dog happy and healthy. All about nutrition, how to feed your dog, how to trim his nails, how to clean his ears, how to groom your dog, how to bath him, how to treat his pads, first aid for dogs, how to clean your dog's teeth, how to micro chip, what gear and tools to use, and so much more
Videos about the subject matters are included in individual posts of this category.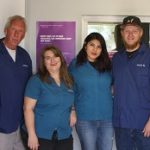 Sharing with you what we learned, practiced and improved for decades. Trial and error has been done FOR you. You are experiencing the best version…..for now. There are always those little things that one comes up with to improve. The Team is always conscious about what and how to do.
Subscribe to our website, and you be the first to know about improvements. Please send us an email asking questions, and we are very motivated to create content inspired by your questions.