A big Thank YOU to Rancho Sahuarita Resort for hosting an Expo event and allowing us to present our pet services and products to the community. Businesses do appreciate any opportunity allowed to present their business to people of interest. The best part here, it was at no cost!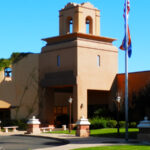 To all of you down there in Sahuarita – yes- we do provide free pet pickup and delivery services for your pet as long as your reservation is minimum 5 days or more!
Even after business hours Camino Verde Pet Resort is prepared to take care of your pets' needs in case of medical emergencies. Keep our contact information close. Expect a quick response after business hours as well.
Grooming your pet in conjunction with your boarding stay is discounted 10%
Camino Verde Pet Resort Boards- grooms and trains!